Can I Put My iPhone 12 Underwater? The Answer iPhone 12 Water Resistant Details
---
Can I Put My iPhone 12 Underwater?
Can I Use my iPhone Underwater?
 As Apple Official description ,the new iPhone 12 has a water resistance rating of IP68 - maximum depth of 6 meters up to 30 minutes- as a new iPhone 12 - the most Important! 
For the Apple Says, the Water Resistance will decrease as normal wear!A nd liquid damage will out of warranty!
Any Dent or Shock will affect the ability of Water Resistance, So a new iPhone 12 has the Strongest Water Resistance Ability

You will Put your new iPhone 12 underwater less than 6 meters deep and less than 30 minutes.

But for a used iPhone, there is no any way to know how much water resistance left and sometime you don't know if your iPhone 12 has damage,so you have no idea if it could be used underwater!

Using a iPhone 12 Waterproof case is a better solution for use iPhone 12 underwater!

 Waterproof Dustproof Snowproof Shockproof

Protecting your iPhone 12 well from damage,Save expensive repairing money
no any worry about if the iPhone 12 could Water Resistantance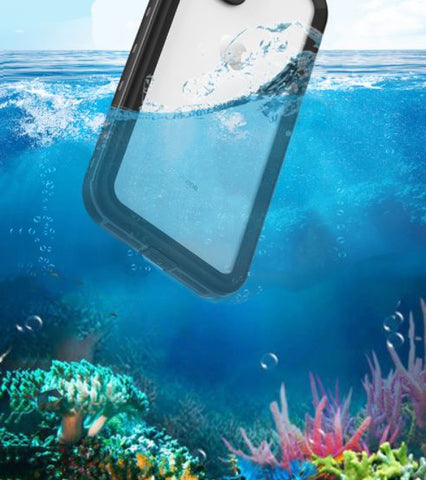 Is the iPhone 12 waterproof?
Yes, but only for the new iPhone 12, the water resistantance will decrease as your daily use

iPhone 12, iPhone 12 mini, iPhone 12 Pro, and iPhone 12 Pro Max have a rating of IP68 under IEC standard 60529 (maximum depth of 6 meters up to 30 minutes)
Can I wash my iPhone 12?
Not recommend, The new iPhone could be washed, the used iPhone please do not wash it.
What do you do if your iPhone 12 gets wet?
You need dry the iPhone 12 first using dry cloth, please do not charging or using

Please take it to under cool air stable for few hours.
Sorry, there are no products in this collection.